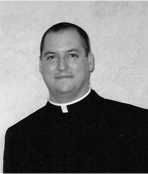 My name is Fr. Jeffrey Allen Poll and here is a short autobiography of my
life. I graduated from Deerfield High School in 1989 and went to Lake Superior
University in Sault Ste. Marie, Michigan where I received an associate degree in
Criminal Justice/Corrections. After college I worked part time until, 1994 when I started working for the Michigan Department of Corrections. I spent four years in Adrian, Michigan working at both the regional and temporary prisons, and then I transferred to probation/parole to work with Boot Camp offenders. In 1997 I began to discern a call to the priesthood and within the year I joined the diocese of Lansing, and was sent to the University of St. Thomas in St. Paul Minnesota to finish my bachelor's degree in Sociology with a minor in Philosophy. After
completing my degree I was accepted to major seminary at the University of St. Mary
of the Lake (USML), also called Mundelein Seminary outside of Chicago. I concluded
major seminary on May 5th 2005. On June 11, 2005, along with four other
seminarians for the Diocese of Lansing, I was ordained to the Priesthood at St.
Thomas the Apostle in East Lansing.
After ordination I began my priestly ministry at St. Patrick Parish, Brighton,
MI in July and was transferred to Queen of the Miraculous Medal in Jackson in
2009, where I was stationed for one year. In June 2010 I was assigned to St. Mary
Parish in Durand as pastor and in 2012 I received a second parish, St. Joseph, in
Gaines. My time at all of the parishes in which I have been able to serve has been
filled with great joy. I am very excited to be coming to Light of Christ Parish to be part of the parish community. I am very much looking forward to serving the
parish with my whole heart, allowing the Holy Spirit to guide me.
Thank you and God Bles
---
Deanna Burke  – Director of Religious Education (Pre-school – High School), Sacramental Records & Parish Data
I am very excited to be the Director of Religious Education coordinating programs for parish children pre-K through 8th grade, including sacramental preparation, Children's Liturgy of the Word, and Vacation Bible School.  I am happy to assist our parish family as we work together to provide religious education and formation for the youngest members of our parish.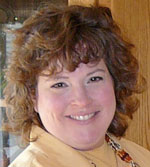 I received my Bachelor's degree in 1992 from Eastern Michigan University, and I am a dually certified teacher with my Elementary Provisional/Special Education, majoring in the Visually Impaired.  I received my Advanced Catechist Certification from the diocese in 1998.  In 2007 I earned certification to teach the Catechesis of the Good Shepherd program for children ages 3-5.  I regularly attend workshops, conferences, and formation classes each year.  I have been involved in ministry in many ways, including the roles of catechist, Coordinator of Religious Education, and the Director of Religious Education.
I live in Deerfield with my husband, Doug, and our three children, Katy, Ben, and Jake.  We are active in our parish and our community.  We enjoy living in the country and spending time doing outdoor activities.
---
Leanne Goodin – Bulletin Editor & Ministry Scheduling
I began working at Light of Christ Parish as a secretary at our St. Alphonsus site in 2008.  While I perform the typical office duties, such as answering the telephone, typing, copying, etc., my main responsibility is Bulletin Editor.  I really enjoy using the computer to create an attractive and informative weekly bulletin.  At least I like to think it is!  I am also responsible for scheduling all liturgical ministers and I do this on a quarterly basis.  Of course this job would be much more complicated if I had a larger pool of people, but I'd somehow manage!  I am also currently the chairperson of our Social Concerns Commission whose main purpose is to operate our Food Pantry and I really enjoy working with this small but hard working and compassionate group of parishioners.  Lastly, I coordinate Meals on Wheels delivery drivers from our parish several weeks per year, another very rewarding ministry.

I am a lifelong member of St. Alphonsus, having been baptized and married at St. Al's (and every sacrament in between).  I was a religious education teacher for several years and enjoy volunteering at church in many different ways.  I graduated from the University of Toledo and was a travel agent for 17 exciting years which allowed me to visit many interesting places.
Currently, my husband Ron and I reside in Petersburg where I have lived my whole life.  I also work part-time as the Clerk for the City of Petersburg.  I enjoy walking with friends and hiking with Ron.
---
Karen Nevins – Director of Music
As the universal language, music has served as an essential part of every culture for celebrating all life events throughout the ages. As your Music Director for Light of Christ Parish in Blissfield and Deerfield, my goal is to work with the staff in scheduling and preparing for all parish musical needs. In doing so, I strive to select appropriate literature, conduct adequate rehearsals, prepare cantors/choir and coordinate accompanists for both sites. It is my hope to make each service an even more prayerful and spiritual experience for our parishioners and guests. I work privately to prepare cantors as needed for developing healthy vocal technique and clear diction. With the choir, we work together to assure a beautiful blend of voices and provide harmony. As your Music Director, ultimately it is my hope that your musical experiences at Light of Christ will be uplifting to strengthen your relationship with your church family and with God. I certainly encourage anyone considering music ministry to approach me if I can answer your questions or concerns.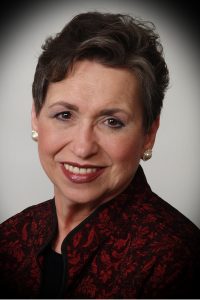 While I first soloed at age 5 for my grandparents' 50th wedding anniversary, my first formal music instructions were taken at the piano at age 7 and on the flute in the school band program. My love of poetry and the beauty of bringing words to life through musical expression turned my attention to singing. My interest in the voice as an instrument drew me from instrumental to folk and sacred music with my guitar and then to the choral classroom as I explored Lenawee Community Chorus in the 1980s. While my mother grew up in St. Alphonsus parish, I grew up in Blissfield and in St. Peter Parish and was a charter member of the original Guitar Group. I requested the purchase of St. Peter's handbells and conducted the handbell choir for awhile. I began teaching piano and voice in 1984 in my home. With my children in school, I returned to EMU to study music education and graduated in 1993. I taught school music for twenty years until my retirement in 2013. In preparation for completing my MA degree in choral performance at EMU, I founded Carillon Women's Chorale to perform in my MA recital in 2002. As a retiree, I was honored to receive the 2015 MSVMA Emeritus Award and continue my 24-year association as MSVMA adjudicator/clinician for school music festivals. I currently teach voice and piano in my private studio and in select schools.
---
Susan Cousino – Bookkeeper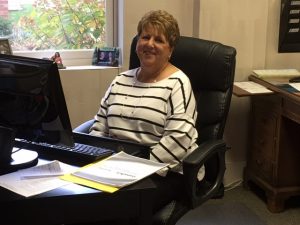 ---
Kim Diver – Maintenance Director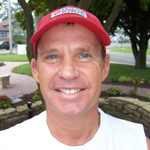 I am a lifelong resident of Deerfield and parishioner at St. Alphonsus. I began working as the maintenance director at St. Alphonsus in January of 2007 after retiring from the Ford Company.
I am married to Julie (Witt) another lifelong member of St. Alphonsus and together we have two sons: Jake lives in Pensacola and Kaine lives in Lansing. Both have completed college and are working.
In addition to working at Light of Christ Parish, I also work at Witt Farms. My wife and I have our own Dojo where we teach mixed martial arts. Martial arts have been a hobby for the whole family for over 25 years. We also sponsor the website: amfightclub.com where individuals can receive martial arts instruction online.
<